How to create a see-through text box in Microsoft Word

In some cases, you might want to type words or sentences on an image. However, you cannot do this without first inserting a text box. The text box can end up ruining the aesthetic of the picture. It is best to blur out the outline of the box. This can be done quickly in Microsoft word using the steps below.
1. Open Microsoft word
Choose a blank document.
2. Go to 'layout'
From that list, select 'orientation.' Either portrait or landscape.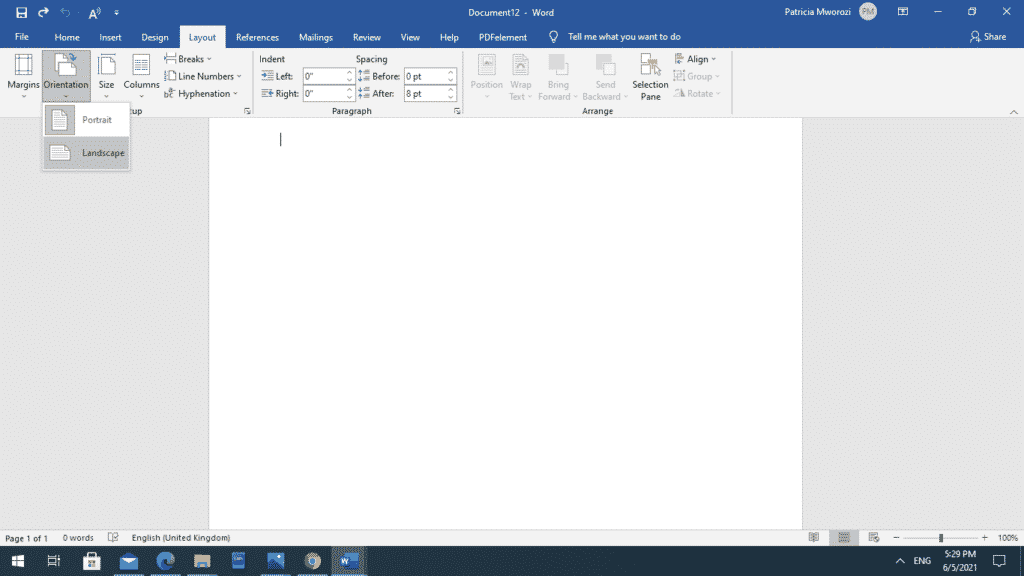 3. Go to the 'insert' tab on your ribbon
Select 'picture' and choose 'This device.' Go to the folder with the background picture you want to use and select it.
4. Right-click the picture
Once the picture has been inserted, right-click it. A context box will appear.
5. Select 'Wrap text'
When you do this, another list will appear. Select 'Behind text.'
Doing this will enable you to drag the edge of your background easily.
6. Go to the insert tab on the ribbon
From the list on your extreme right, click 'text box' and choose 'draw text box.'
A cross will appear. Now you can drag your text box until you get your preferred shape and size.
7. Type or paste the text
You can now type your text or paste it into the text box. You can also adjust the font, font size.
8. Go to 'Shape Fill'
On the ribbon, under 'drawing tools,' go to shape fill.
Several squares of different colors will appear. Below them is another list. Select 'gradient.'
9. Go to 'more gradients'
When you select 'gradient,' another assortment of gradient squares will appear. Go to 'more gradients.'
10. Go to 'Shape Fill'
A dialog box will appear on your extreme right. Select the picture of the small bucket with paint pouring out.
From this list, check the 'solid color' option.
Below it, select the drop-down arrow next to the bucket with paint spilling out. Pick a color that blends with your background picture.
On the transparency slider, adjust the level of transparency you would like. If you want it to be fully transparent, slide the control to 100%.
Check the 'no line' option.
The text box will disappear.
Professors have opted for group work to reduce the burden on students who are struggling for different reasons because of the pandemic.
While group work reduces the workload, it can be frustrating to get all your group members in order and divide the sections of the assignment.
Instead of having only a few of the members contribute, with Simul Docs all your group mates will be able to work on one paper at the same time from different locations.
The first step is downloading Simul Docs then you can get started.
After writing your first draft in Microsoft Word, upload it to Simul Docs. This will automatically make it the first version. Now, another colleague can open it and make their edits. This will create another version different from the first.
Whenever another person opens a version and makes edits, a new version is created with the latest changes.
Since it is a collaboration, a bonus feature is the ability to add comments to the document. If you want a colleague to review the changes by a specific time, or any other instructions, you can let them know in the comment section.
Later on, these comments can be removed after your groupmates have seen and executed the instructions.
Additionally, in case you are working on your document and forget to turn on track changes, Simul Docs still records and updates your modifications regardless of your online or offline status.
Suppose another co-worker is supposed to include their input, but they do not have Simul Docs. Maybe they are not tech-savvy. All you have to do is download the document or forward it by email. Alternatively, you can upload it to any storage software like one drive, and once their changes have been made, they can forward it to you once again, and you can open it in Simul Docs.
Once all the necessary edits have been made, you can save the final version containing all the modifications with one click.
Simul is the most convenient collaborative tool yet. Centralising your written project avoids mishaps like losing your work or losing its original format. You and your group mates can work on your paper at the exact same time and Simul Docs will create different branches.
Group projects do not have to be a nightmare anymore.
Visit simuldocs.com and prepare your group projects without the usual hustle and bustle.
See how Simul can help you with a 14 day free trial, and paid plans start at just $15 per month.