How to Track Changes without track changes turned on

When it comes to MS Word, to know where changes have been made in a document, you have to turn on 'Track Changes.' However, there are other ways to highlight changes in case you forgot to turn on this feature.
Method 1: Use a free comparison tool (Draftable)
Draftable is a free online comparison tool that lets you easily compare two different versions of one document easily and instantly. It supports DOC, DOCX, RTF, PDF, PPT, PPTX, and other document types.
Open the site.
There are two buttons with instructions on your right and left: 'Drop an older version file here.'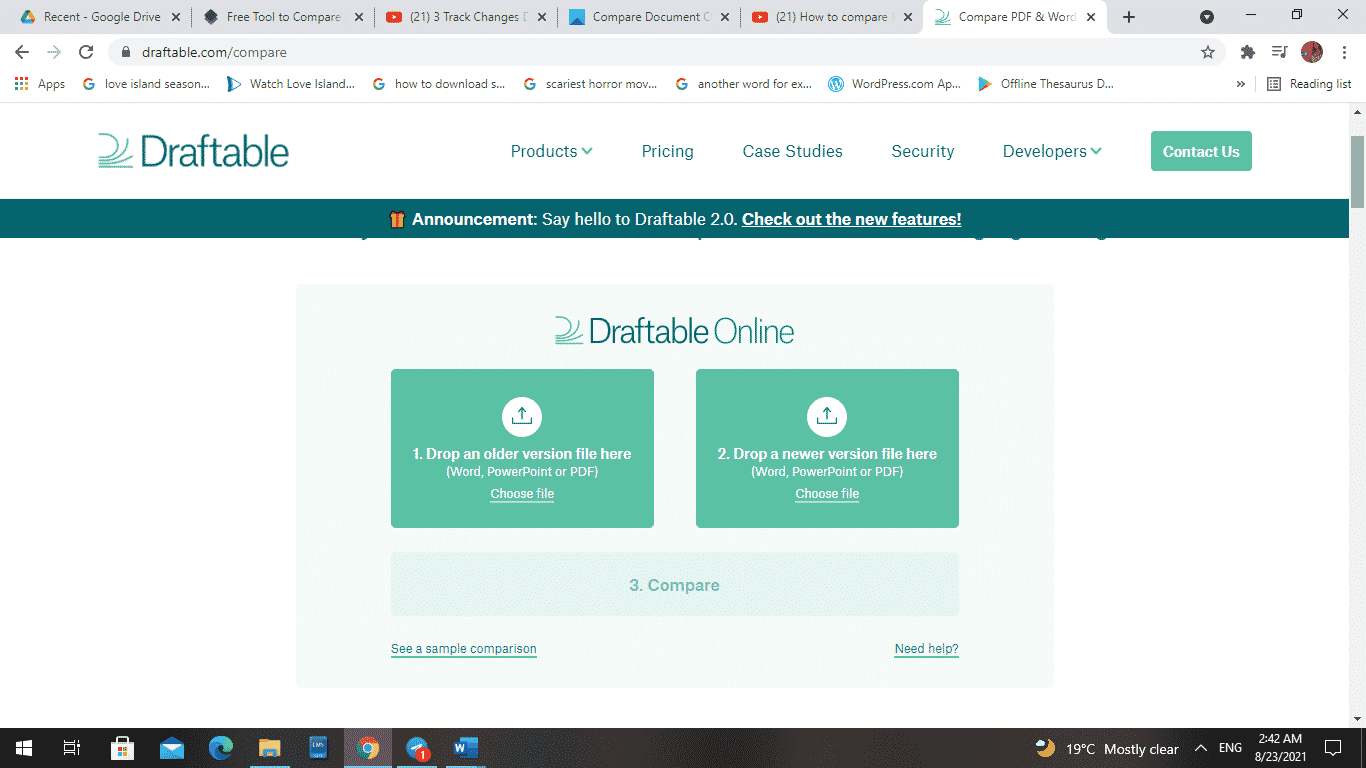 Select 'Choose file' on your left to upload the original file.
When you do this, you are taken to the folders on your device.
Choose a file and click 'Open.'
'Uploading' will be displayed.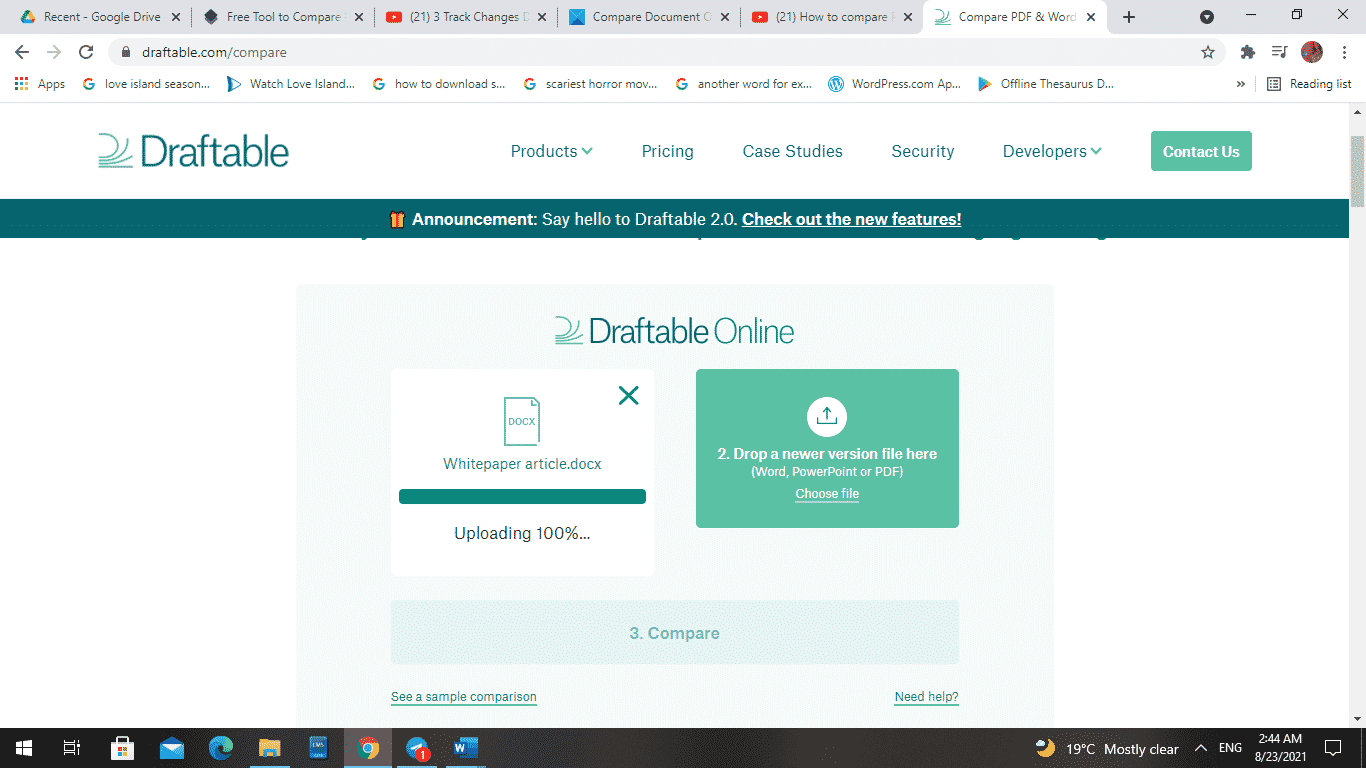 Once your document is done uploading, 'Ready!' will be displayed on your screen.
Repeat the procedure for the newer version of the document.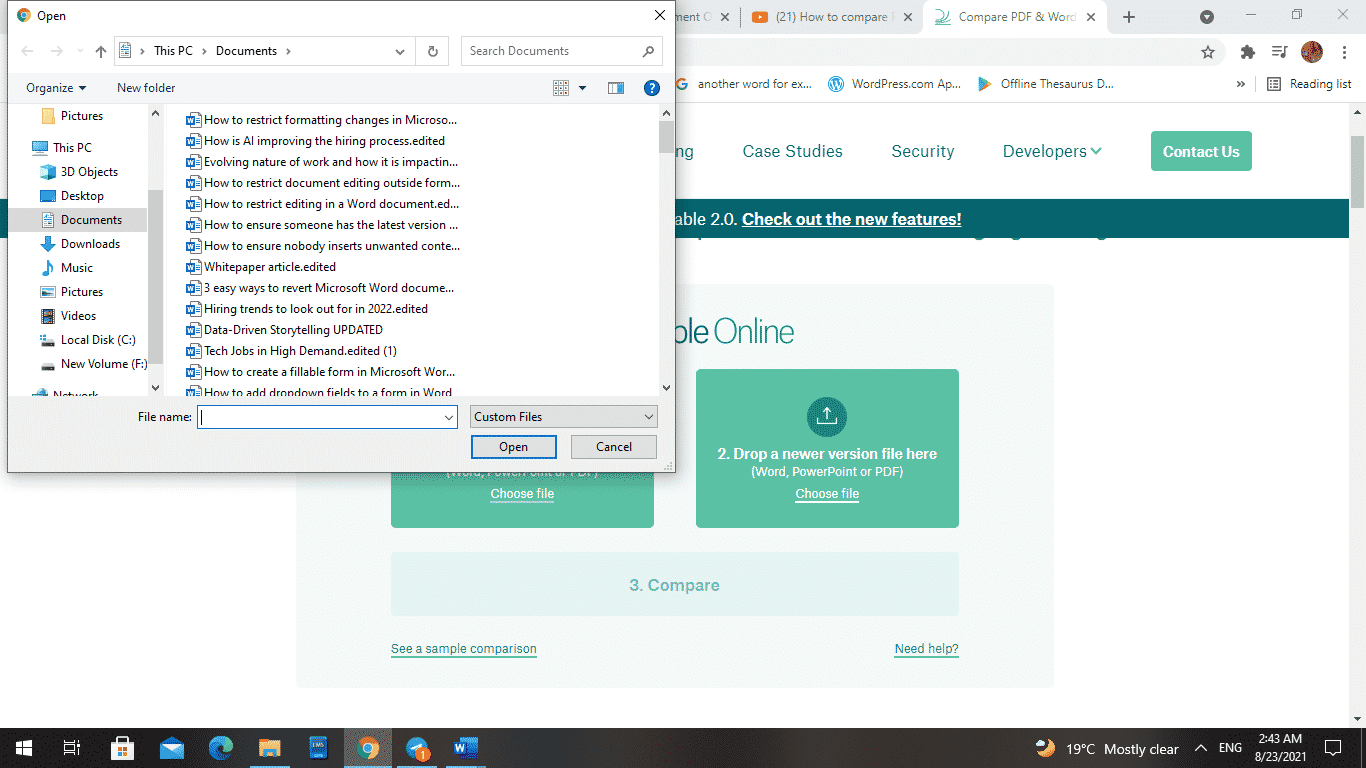 Once you are done, click 'Compare.'
Draftable will now show you that it is comparing both documents.
Two side-by-side copies of both documents will be displayed on your screen.
You will be able to see highlighted text to show where changes have been made.
To show all updates in a redline view, go to a single page view.
In a single list, you can see all of the changes. If you click on a change that interests you, you will be directed to that section in the document.
Draftable also allows you to share this document with other members.
Method 2: Using a dedicated version control and collaboration tool (Simul)
Simul is a collaborative tool that lets you compare different versions of the same document. With Simul Docs, Track Changes does not have to be turned on to document the modifications. As long as a person makes changes to a copy, these edits will be recorded, and the next editor or viewer will be able to see them.
Below is a step-by-step process to compare two versions of a document, a draft and one with several changes.
Open the link to the site.
Simul will instruct you to drop the original document and the edited document.
Start with the original document. You can drag and drop it to the empty box on the left, or you can upload it from your device. To upload it from your device, select the 'Your computer' option.
You will be taken to the folders on your device. Choose a file and click 'open.'
'Uploading' will be displayed.
Repeat the procedure for the edited version of the document.
Once you are done, click 'View My Comparison.'
You might have to fill in some details before this, such as your name, email address and organization.
The single document displayed shows the differences between the original and modified documents.
The underlined text shows what was added to the document. The text with a strikethrough shows what was deleted.
You can download this comparison or share it with others using the 'Download Comparison' and 'Share Comparison' buttons to the document's left.
Are you looking for a tool that lets you virtually collaborate on documents with colleagues, make and track changes, leave comments, all under one roof?
Simul Docs is the answer for you!
The first step is downloading Simul Docs then you can get started.
After writing your first draft in Microsoft Word, upload it to Simul Docs. This will automatically make it the first version. Now, another person can open it and make their edits. This will create another version different from the first.
Whenever another person opens a version and makes edits, a new version is created with the latest changes.
Sometimes, you might be in a rush and forget to turn on Track Changes. Simul Docs automatically records these edits regardless of your online or offline status.
Since it is a collaboration, a bonus feature is the ability to add comments to the document.
Additionally, you and your groupmates can work on the document at the same time. and Simul Docs keeps each version separately.
Let us say another co-worker is supposed to include their input, but they do not have Simul Docs. All you have to do is download the document or forward it by email. Alternatively, you can upload it to any storage software like one drive.
Once all the necessary edits have been made, you can save the final version containing all the modifications with one click.
Simul is the most convenient collaborative tool yet. Centralising your written project avoids mishaps like losing your work or losing its original format.
Visit simuldocs.com and simplify group edits today.
See how Simul can help you with a 14 day free trial, and paid plans start at just $15 per month.